We want to make our knowledge yours. Our expertise your ally.
We're here to help you (re)connect with your skin thanks to My Clarins products.
OILY SKIN

COMBINATION SKIN

DRY SKIN

BALANCED SKIN
To learn is to love. To love is to apply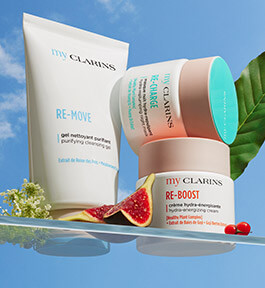 LEARN
LEARN
We're here to help you understand your skin. To empower you with expert advice.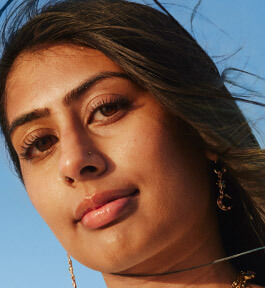 LOVE
LOVE
Nature is our raison d'être. It has everything skin needs. Beauty claims backed by real results. No filters or impossible ideals.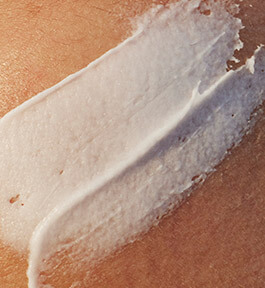 APPLY
APPLY
Simplified 3 step routines. Active molecules from fruits & plants perfectly concentrated for maximum effectiveness.
Any questions ?
Our experts answer you
The first step in taking care of your skin: perfecting your skincare routine! At Clarins, we've developed a skincare collection for every age, targeting skin concerns from dullness and fatigue to wrinkles and fine lines. My Clarins is a new collection aimed at young people 29 and under, to help you understand your skin type and care for your skin with a simple 3-step routine for all skin types. Whether you have oily skin, dry skin, or combination skin, My Clarins' collection of cleansers, targeted day creams and night creams is a great way to help get your skincare routine started.
Yes! My Clarins is a vegan skincare collection with a minimum of 90% ingredients from natural origin. Each product in the My Clarins range is powered by plant and fruit extracts to take care of skin naturally. For example, the first step in your My Clarins Routine, the Re-Move Purifying Cleansing Gel cleans and purifies skin with extract of meadowsweet. The Re-Boost Energizing Cream with organic goji berry extract gives skin an extra energy boost, while the Re-Charge Hydra Replumping Night Mask rehydrates and replumps skin overnight with extract of huang qi.
Skin can become dehydrated for many reasons, from hormones to the weather. Some people also have a dry skin type, which means that their skin may need a little hydration boost more often. Having a healthy skin care routine in place, with adequate moisturising treatment products, can help to maintain skin's hydration levels. My Clarins' range of moisturising day creams come in three textures, from light, Re-Boost Energizing Cream, to rich, Re-Boost Energizing Rich Cream, so that your skin stays moisturised from day to night. At night, top up with a moisturising night cream, such as Clarins Re-Charge Hydra Re-plumping Night Mask, to help your skin repair itself while you sleep.
Finding your skin type is essential if you want to find out whether you have normal skin, oily skin, dry skin, or combination skin. Fortunately, Clarins' skin expertise is here to help ! First, remember that sebum is responsible for maintaining skin's water levels beneath the surface, keeping skin moisturised. Normal skin produces more or less the correct amount of sebum to keep skin hydrated. Oily skin produces too much sebum, which can lead to skin appearing shiny or greasy, pores becoming blocked, and spots and blemishes forming. Dry skin doesn't produce enough sebum, leaving skin appearing dry and flaking or feeling tight and stretched. Combination skin often has an oily T-zone (forehead, nose and chin) and dry cheeks.
Clarins T.R.U.S.T. is Clarins' traceability platform. Learn about how Clarins sustainably sources and uses plant-based ingredients in our collections, including My Clarins and its vegan formulas with a minimum of 90% ingredients from natural origin. Thanks to the blockchain, follow in total transparency the life cycle of your favourite Clarins products and learn how Clarins sources the plant's ingredients found in your formula.
perfect for gifting
Treat your loved ones to a spot of beauty and relaxation. Surprise a friend on her birthday with a Clarins Gift Set Indulge mothers-to-be with iconic products such as Tonic Treatment Oil or Eau Dynamisante. An exclusive treat from Clarins is the perfect gift for any occasion! For more beauty tips, visit our Beauty FAQs.
View less
View more