Anti-ageing and wrinkle control skincare
THE NO. 1 OF TOTAL SKINCARE IN PRESTIGE DISTRIBUTION*
For over 60 years, Clarins has been taking care of you with skincare packed full of the best plant-based and active anti-ageing ingredients.
*Source: NPD BeautyTrends®, total sales of 4 countries: France, Italy, Spain and UK, products sold in Perfumeries and Department Stores, Luxury brands, sales in value (€), over the period January 2021 to December 2021.
Hyaluronic power complex
The first anti-ageing step
Hydra-Essentiel [HA2] Range
To avoid early signs of ageing, Clarins recommends adopting a skincare routine adapted to your skin type as early as your 20s. The secret to an effective skincare routine? Hydration!
Available in the following different textures: all skin types, normal to dry, very dry, normal to combination and normal to dry SPF, unlock the secret to lasting hydration with Hydra-Essentiel.
•Perfectly hydrated skin •The complexion feels refreshed •Skin's radiance is revived
The Principal Active Ingredient: Organic leaf of life, a powerful ingredient that helps to maintain the skin's natural water retention.
Discover the range
Maribel Koucke
Surfer & Globe Trotter
Cardencha
First wrinkle skincare
Multi-Active Range
Targets and reduces the first signs of fine lines and wrinkles by preserving the skin's natural moisture
Expertly smoothing, revitalising, and boosting radiance to reveal younger-looking skin. Designed to keep up with the hectic lifestyles of women in their thirties!
•Early fine lines are visibly smoothed •Radiance •Improved skin tone
Teasel extract encourages the production of ATP - energising molecule - and helps fights free radicals.
Discover the range
Monica Vaughan
Passionate business-owner
Kangaroo flower
Complete Anti-Ageing Skincare
Extra-Firming Range
Instant smoothing effect
Wrinkles are visibly reduced and the contours of the face look more sculpted. Visibly firmer, smoother, and radiant; Extra-Firming range helps you to have a youthful-looking skin.
•Gives an immediate healthy glow effect •Boosts radiance of the skin •Helps the skin to regain vitality and firmer-looking skin
In cosmetics, kangaroo flower extract helps optimise the potential of dermal regerneration.
Discover the range
Leticia Herrera
Food & lifestyle expert
Organic harungana and gorse extract
Redensifying Skincare
Super Restorative Range
Super Restorative's new and improved formula leaves skin feeling lifted and looking replenished
90% of women say their skin looks more beautiful.* Available in two formats for day & two formats for night (dry skin/all skin types), plus an SPF day cream.
•Replenishes and redensifies •Firms and tones
Two uniquely powerful ingredients - organic harungana and gorse extract - combine in a new skincare innovation for an optimal anti-slackening action.
Discover the range
*Consumer test, 111 women, 28 days of using Super Restorative Day cream All skin types, followed by 14 days of using with Super Restorative Night cream All skin types.
Claudia Maria
Fencer & challenge-seeker
Horse chesnut flower
Restorative Skincare
Nutri-Lumière Range
Clarins Pro-Aging Skin Nutrition
With a powerful active ingredient duo from the horse chestnut tree which acts on the micronutrient network, this cream restores luminosity to undernourished skin, leaving your complexion revitalised, hydrated, and radiant.
•Intensely nourishes •Restore skin's radiance •Lifts and replenishes •Skin tone enhancing •Contains Clarins Anti-Pollution Complex
Horse chesnut flower and fruit extract, a powerful duo of active ingredients that act on the skin's micro-nutrient network, helping to nourish and fully restore the skin's luminosity.
Discover the range
3 steps to protected skin
1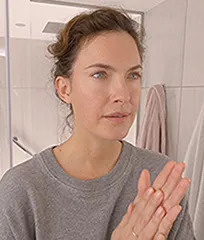 3 seconds
Warm
Take a small dab of cream. Warm it in your hands to bring it up to the temperature of your skin and help it take effect instantly.
2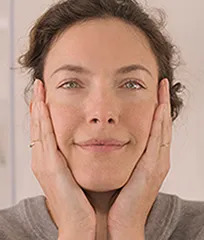 8 seconds
Apply
Use the natural weight of your hands to distribute the product evenly on your neck and décolleté.
3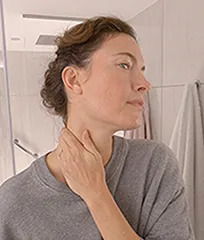 16 seconds
Apply pressure
Use the pressure draining method to stimulate circulation, bring radiance back to your complexion, and maintain firm skin. 3 times on the cheeks, 3 times on the forehead, 5 times on the neck and décolleté.
Find your nearest store
Any questions?
Our experts answer you
What is the best cream for sculpting and replenishing skin after the age of 50?
For slightly more demanding skin in your 50s, we recommend Clarins' intensively replenishing, anti-ageing Super Restorative Day Cream. Enriched with Organic Harungana extract from the 'healing' tree in Madagascar, this anti-wrinkle cream replenishes at all levels, leaving skin brighter-looking, smoother, and more radiant. For skin that's visibly replenished and lifted, apply the cream every morning after Clarins Super Restorative Remodeling Serum.
How can I restore luminosity and radiance to mature skin?
Our Nutri-Lumière Day Cream is perfect for nourishing and brightening fragile, more mature skin. Clarins Laboratories has developed two active ingredients — Organic Horse Chestnut Flower extract and Horse Chestnut Ecsin — recognise for their action on the micro-nutrient network. With a sensorial, melting texture, this invigorating day cream helps to promote radiance and luminosity in dull, undernourished skin.
What is the most effective anti-ageing skincare routine?
For youthful-looking and supple skin, use an anti-ageing day cream, night cream, and eye cream every day. At Clarins, we have anti-wrinkle creams specifically formulated for every skin type (normal, oily, combination, dry, and very dry) and for each age group. To help your products work more effectively, use a face scrub once or twice a week to remove dead skin cells. And when you need a more intensely targeted skincare, treat your skin to a face mask. Our extensive line of expertly crafted anti-ageing products will restore suppleness, firmness, even tone, and gorgeous radiance to your skin.
At what age should you start your skincare routine?
There is no time limit as to when somebody should or shouldn't start a skincare routine. Depending on your age, you'll want to choose skincare products that target your main skin concerns, such as lack of tone, dark spots and fine lines. Whatever your age or skin type, ensuring your skin remains fully hydrated is essential to preserving its beauty and youth.
How should I hydrate my skin?
First of all, it's important to know that all skin types, whether dry skin or oily skin, can become dehydrated. Skin hydration is dependent on a number of factors. Diet, lifestyle and pollution can all cause skin to lose water through the epidermis, a process known as transepidermal water loss. To prevent water loss, it's important to drink enough water and apply a moisturiser that's suitable for your skin type. Products enriched with hydrating and moisturising ingredients, such as hyaluronic acid and shea butter, can help to keep skin hydrated all day long. Available in the following different textures: all skin types, normal to dry, very dry, normal to combination and normal to dry SPF. Clarins' Hydra Essentiel collection delivers optimal hydration from day to night.
Your Beauty Consultation
Your personalised product recommandations, all with a few swipes.
Try now
PERFECT FOR GIFTING
Surprise a friend on her birthday with a Clarins Gift Set or, even better, lovingly create a personalised beauty routine for her! Indulge mothers-to-be with iconic products such as Tonic Treatment Oil or Eau Dynamisante. An exclusive treat from Clarins is the perfect gift for any occasion! For more beauty tips, visit our Beauty FAQs.
View less
View more