Slimming and firming products
N°1 European Prestige Body Treatments*
Take care of your skin to preserve its youth. As an expert in skincare, Clarins harnesses plants' beautifying active ingredients.
*Source: NPD BeautyTrends®, selective skincare market, prestigious brands, sales in value, over the cumulative period of January to December 2020, 3 countries in total (France, Italy and the UK).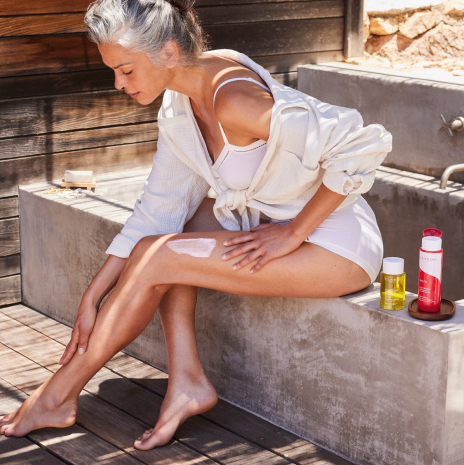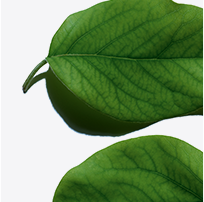 Quince leaf
Smooth, healthy-looking skin
Restoring your shape
It is important to keep your body happy and healthy by eating a healthy diet, exercising, and taking care of your skin every day. Clarins Body Fit slimming expert can help to reduce the appearance of cellulite on your thighs, buttocks and hips. Quince leaf extract helps slim down your figure and visibly smooth out cellulite. Body Fit Anti-Cellulite Contouring Expert sculpts your body with a blend of caffeine, poppy extract and quince extract. After the age of 50, Super Restorative Redefining Body Care for abdomen and waist with crowberry defines and sculpts the tummy and waistline. And for a body toning wellness treatment, there's Tonic Body Treatment Oil.
SEE MORE SEE LESS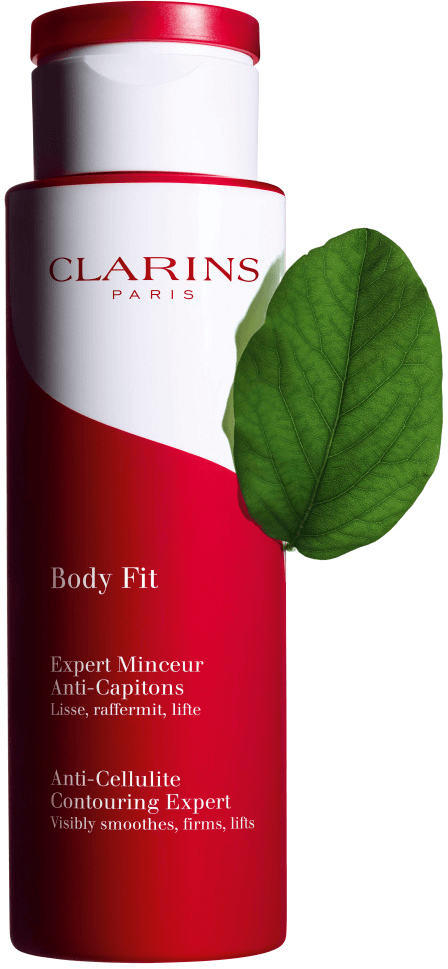 Quince leaf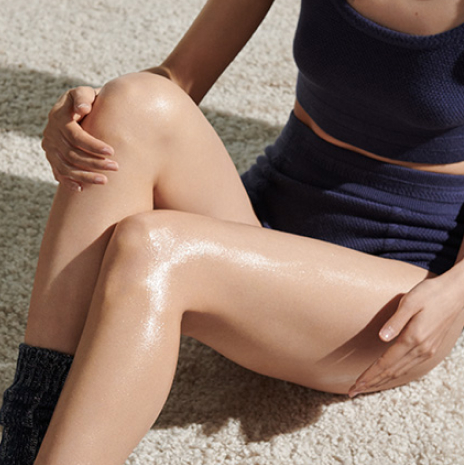 Firming Action
Maintaining a firm figure
Changes to our body happen over time due to changes in lifestyle, having children, or getting older. Clarins firming products are made to target specific needs across the body. Both the lotion and cream versions of the Extra-Firming Body line use a blend of lemon thyme and bocoa extracts to protect and strengthen your skin's elasticity. Bust Beauty Extra-Lift Gel contains densifying vu sua extracts that have an instant lifting effect. It's an ideal ally when you're slimming down, after pregnancy, or during a hormone cycle. A beautiful bust at any age. Get the body of your dreams!
SEE MORE SEE LESS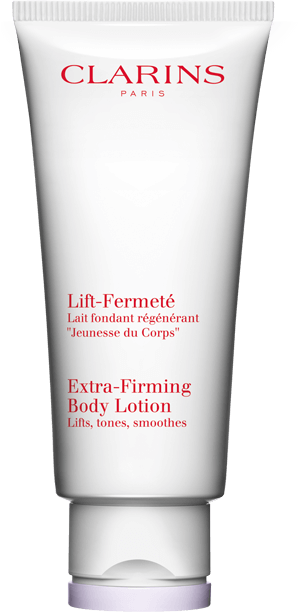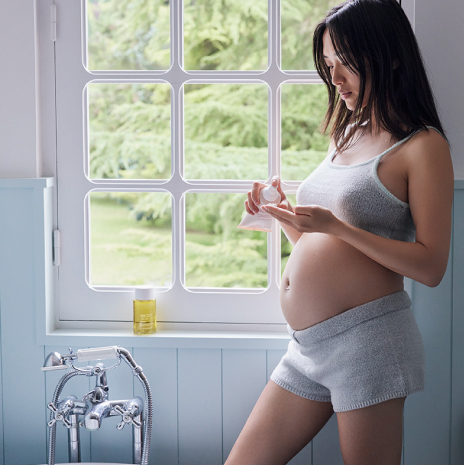 Stretch marks
Always bounce back
Women experience stretch marks at various times of life. Weight gain or loss related to hormonal changes, age, or pregnancy can really put our skin to the test. The secret for avoiding stretch marks is to nourish and hydrate your skin, and maintain elasticity. One priceless partner in this journey is Tonic Body Treatment Oil with botanical extracts. When it comes to preventing or reducing stretch marks caused by distended skin, get expert skincare. Body Partner with Phyto-Stretch Complex reverses stretch marks with extracts of gotu kola leaves and organic green banana. Massage it in with circular motions and watch them shrink in length, width and depth, and fade in colour day after day.
SEE MORE SEE LESS
Body Partner
Reverse
Reduce
Strengthen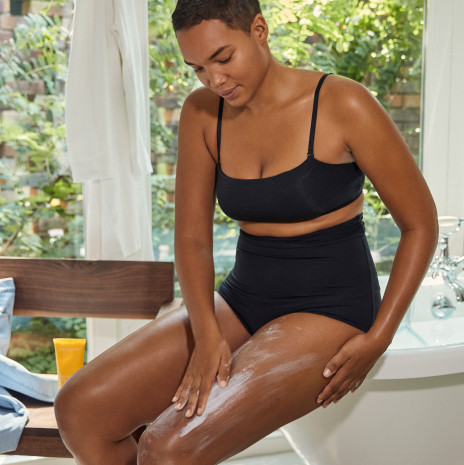 Moisturise
The secret to beautiful skin
SEE MORE SEE LESS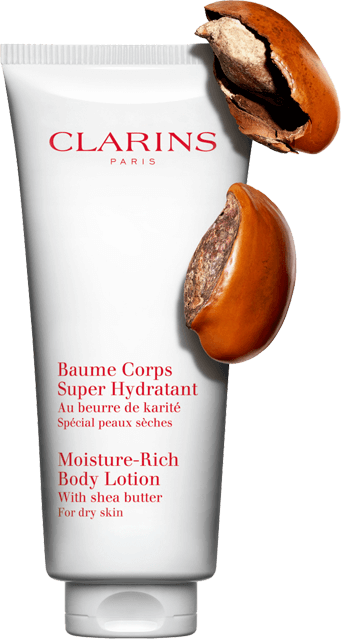 Shea butter
Moisture-Rich Body Lotion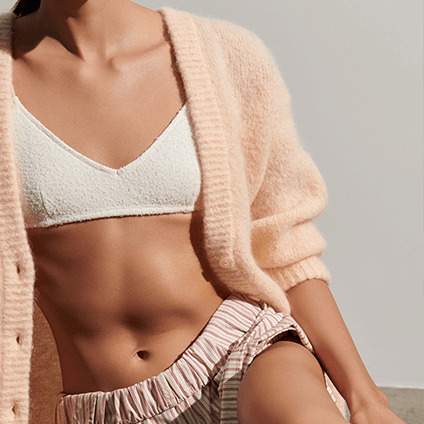 Exfoliate
The essential step for skin renewal
Clarins scrubs help your skin to feel smooth, soft, and firm again. Our Exfoliating Body Scrub For Smooth Skin uses bamboo powder to get rid of dead skin cells and dry patches. It has an exfoliating action that smooths the skin's surface and leaves it incredibly soft
Tonic Body Polisher combines the exfoliating goodness of sugar and Camargue salt crystals with the toning performance of geranium, mint and rosemary essential oils. A sweet and savoury scrub for skin that's toned and silky smooth.
SEE MORE SEE LESS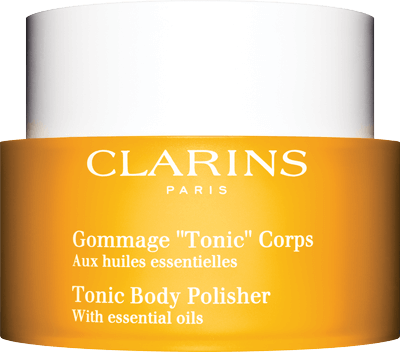 Three steps to firm, hydrated skin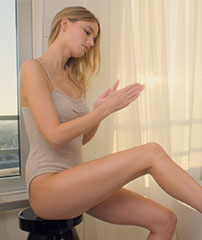 1
3 seconds
Warm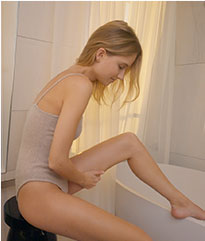 2
10 seconds
Smooth upwards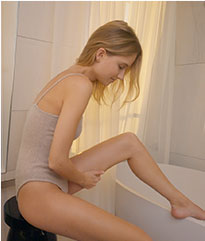 3
30 seconds
Repeat
Any questions?
Our experts answer you
How can you get firm, smooth skin?
For soft and firm skin, you need to scrub your entire body to get rid of dead skin cells! Clarins firming creams work even better when applied on clean smooth skin. The exfoliating power of Clarins scrubs comes from their naturally sourced ingredients. Bamboo powder or Camargue salt crystals and sugar? Nature has something for everyone!
Are weight changes bad for your health?
Weight changes can occur due to a number of reasons. Stress is often a factor, as the result of a busy lifestyle. Some women lose weight during difficult periods in their lives. Others may put on weight due to stress or lifestyle changes.
If you are looking to lose weight, you should first seek advice from your GP. They will help you to create a diet and exercise plan, and teach you how to gradually lose a healthy amount of weight for your body type.
How do you choose a firming product?
You should choose one of our firming products based on your body type. Our experts can recommend them for you through our Clarins & Me online consultations.

You can then apply your Clarins slimming treatments with the recommended techniques.
What beauty routine do I use for slimming and toning?
For 60 years, Clarins has been turning to Mother Nature for skin-loving active ingredients. Extracts of poppies, quince leaves and crowberry create a natural slimming cocktail that keeps your figure looking youthful and fresh.
Why should I moisturise my body?
More than anything, a toned body with soft smooth skin means a hydrated body. Your skin needs to be hydrated every day to keep it looking healthy and feeling silky soft. Clarins moisturisers come as lotions, creams, balms and oils so every woman can find a formula that meets her needs and provides a sensory experience. Look for botanicals like aloe vera, shea butter and essential oils with all the soothing, nourishing goodness to keep skin young and supple, and offer well-being and comfort every day.

Your Beauty Consultation
Your personalised product recommendations in just a few steps.