Face self tanner guarantees a radiant complexion!
For a radiant complexion all year round, try self tanners! Clarins has a range of face self tanners that result in a natural-looking tanned complexion that intensifies over the course of a few hours.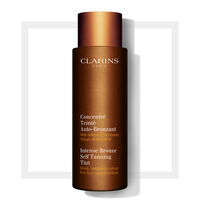 Which self tanner should you choose for your face?
For a radiant complexion or a tropical tan, choose the self tanner that best suits your skin type and how you want to look.
For an immediate tanned look, choose an intense face self tanner, such as Intense Bronze Self Tanning Tint.
For a more progressive result, Instant Smooth Self Tanning is the perfect face self tanner as it gradually gives your skin the radiant look you want.
How to use your face self-tanner
For an easy-to-use product, Clarins suggests Delicious Self Tanning Cream. Thanks to its active ingredients and the extracts of cocoa it contains, the cream soothes and prevents the skin from ageing when applied to the face and the body.
For a natural and uniform tan, apply the face self-tanner on clean, dry and exfoliated skin. Remember to wash your hands before each application.
Finally, why not try Liquid Bronze Self Tanning? As this is not a greasy self-tanner, it has a pleasantly fluid texture, somewhere between that of water and that of milk.
Articles on the same category