How do serums work?
Serum is your skin's new favorite remedy. A great way to boost the effectiveness of your day and night creams, serum results in immediate and long-lasting beautiful skin.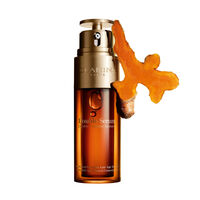 Serum and its multiple benefits
Serum is an intensive treatment designed to revitalize your skin. Its soft, light texture rapidly penetrates the skin's surface to prepare it for daily care. The many active ingredients in serum work to amplify the effects of your normal skin care regimen by enhancing the radiance, firmness and suppleness of your skin. The face serum should be incorporated daily to give your skin the boost it wants. It also works effectively for those one-off skin imperfections, and can be used to moisturize the delicate eye area prone to dark circles.
A variety of serums
The original serums were designed for mature skin, and the anti-wrinkle and anti-spot serums remain the most well-known. Today, however, there is a variety of serums for every kind of skin, including young skin. Double Serum is a complete anti-ageing treatment to smooth wrinkles, reduce pores and regain glow. Serum for dark circles around the eyes can be applied to moisturize this sensitive area. A moisturizing serum such as the Clarins HydraQuench Serum can be applied to the rest of the face.
Articles on the same category