When to exfoliate your body?
Exfoliation should be the first beauty action you use on your body. Once it is rid of those dead cells, it is ready for beauty care products. But do you know how often you should use a body exfoliator? Read on for the answer from Clarins.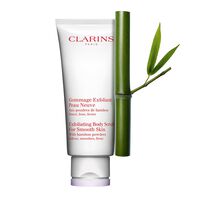 How often should you apply a body exfoliator?
Every 28 days the cells of your epidermis regenerate - they could often do with an exfoliator right away. To do this, new cells are born every day in the lower layers of the skin and move up to the surface where they are naturally eliminated. With age, the regeneration process slows down. Using a body exfoliator allows you to get rid of those dead cells. Clarins' exfoliation treatments can help you. These soft creams, used once or twice a week, will help your skin rediscover all its luminescence.
Why use an exfoliating cream?
As cell regeneration slows down, the dead cells accumulate on the surface of the skin. The skin loses its softness and becomes dull and rugged which could also lead to spots over time. An exfoliating cream, like the Exfoliating Body Scrub, used regularly, increases the removal of dead cells and helps cell regeneration. These exfoliating care products are also a great ally for all women who choose to wax. Their exfoliating action removes hair that is hidden under the skin. What's more, your tan will last longer if you have exfoliated your body before exposing it to the sun.
The use of a body exfoliator is also the first step for the application of other care products, in particular, slimming products. Once the skin is rid of the dead cells, it is more receptive and better absorbs any care product that is then applied.
Articles on the same category