Under-eye care, the perfect remedy for signs of fatigue
Clarins has a range of under-eye products that improve the skin's firmness, leaving it looking fresh again. These products minimise circles under the eyes and dark spots, making them the perfect remedy for eyes that have been active since the early hours of the day.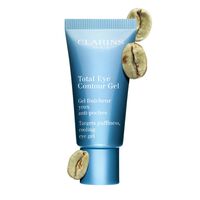 Which concealer should you choose?
A good under-eye product will reinvigorate and restore the skin around the eyes, enhancing their appearance. It should be light and not greasy. Total Eye Contour Gel, formulated with purifying plant extracts and caffeine, it helps to erase signs of tiredness: the eye contour is toned and its radiance enhanced. Total Eye Revive Besides targeting fine lines around the eye contour, this gel-cream helps visibly reduce signs of fatigue (puffiness and dark circles) instantly and day after day. You'll love the way this product protects and moisturises your skin.
How to apply your under-eye product
Every morning before you put on your make-up, apply the under-eye product to any imperfections or circles beneath your eyes using your ring finger. Apply the product from the corner of the eye outwards in small amounts using a gentle patting action. Its light texture ensures that it penetrates the skin quickly.
Articles on the same category