What is cellulite?
Cellulite is the lumpy dimpling of skin which is found specifically on the thighs and buttocks. It occurs as a result of an excess of lipids in the fat cells which increase in number and size to create the visible deformation on the skin's surface. Fighting cellulite is a daily challenge for many women which Clarins can help you to face.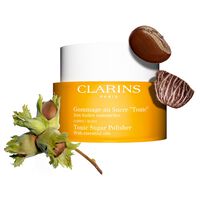 How to remove cellulite?
The key to success in combatting cellulite really begins with a healthy diet combined with undertaking regular physical activity. Choosing a favourite sport to practice in the morning twice a week for instance has proven beneficial. To help you fight the appearance of cellulite, regularly applied care products have proven to be effective. Clarins has specifically designed a range of care products made from plant extracts – such as this anti cellulite cream – which were chosen because of their effects on the causes of cellulite.
To prepare the skin for these products, it's necessary to exfoliate using Exfoliating Body Scrub or applying Toning Body Polisher. This will make the skin more receptive when you apply the anti-cellulite cream.
Effective and easy anti-cellulite treatments
To reduce embedded cellulite and prevent more appearing, the Body Lift Cellulite Control anti-cellulite cream is a suitable anti-cellulite product. Developed from eight different plant extracts, including water mint and celosia, this anti cellulite cream gives the skin a lifted look and hydrates instantly. Regular use can help to rediscover smoother skin in weeks. This anti cellulite cream can be massaged wherever cellulite needs reducing, on hips and legs alike.
Articles on the same category