Is a massage effective against cellulite?
Cellulite affects 90% of women to varying degrees. To get rid of these rebellious marks, you have to take action: an anti-cellulite massage.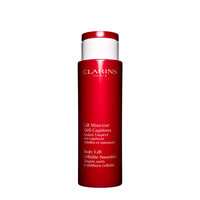 Why are anti-cellulite massages effective?
Cellulite is the consequence of two main phenomena: the excess fat in adipose cells and a deficient microcirculation leading to water infiltration in the tissue. To reduce this unsightly cellulite, maintain a healthy diet and take the time for physical activity such as a cellulite self massage. Anti-cellulite massages have also proven essential in getting rid of cellulite: the mechanical action activates the lymphatic circulation to eliminate toxins and fat. They work to make anti-cellulite products, such as Body Lift Cellulite Control, act more efficiently. Use this video to discover how to apply these products correctly and proceed to a cellulite self massage.
What sort of anti-cellulite massage should I use?
As a specialist in body care products, Clarins has taken the problem of cellulite very seriously and produced a range of products and methods, such as the cellulite self massage, to combat the problem. The anti-cellulite self-massage visibly smoothes your skin. Alternatively, try the body redefining for abdomen and waist massage, which will work to slim down your figure. These cellulite self massages will help you to maintain your figure while taking care of your heart and health. It only takes a few minutes to get the pressure down with your fingers, using circular strokes and movements with a relaxed motion during these massaging sessions. If you are not used to this, start off gently.
For the sporty ones among you, do not forget to apply slim care products just before or just after exercising. If you do so, their effect combined with a cellulite self massage will be magnified.
Articles on the same category