Perfect skin is now within reach.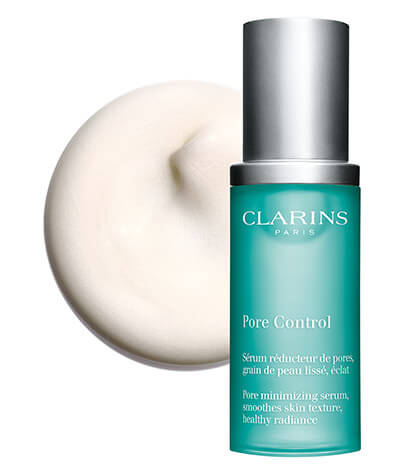 NEW
Pore Control, pore-reducing serum,
smoother skin, radiance!
In this selfie era, why rely on filters when Clarins has the answer to large pores, uneven skin texture and dull complexion.
Helps reduce the appearance of pores
Smooths the skin's texture
Brightens the complexion
Pores under a microscope
Everything you need to know about pores.
What women are saying

What women are saying

80%1

of women report
that this skincare
product helps
control
their pores

87%2

After 28 days,
the size and
appearance of pores
have improved

90%2

say that skin
is instantly
smoother

1. Consumer test – 300 multiethnic women – 28 days
2. Consumer test – 300 multiethnic women

Clarins botanical innovation

Clarins botanical innovation

To reduce the visibility of pores, Clarins Research selected grapevine flower cell extract. This extract helps the collagen and elastin fibres around the pores synthesize, thereby strengthening the structure and reducing pore dilation.

Scientifically proven

Scientifically proven

1/ Expert analysis

Analysis by an expert trained to see pores in photos.

On application:

70%1

of women say pores
are visibly reduced

3. Clinical assessment on 41 women immediately after application

2/ Skin imprint analysis:

Skin imprint analysis performed around the nose area.

Results after four weeks:

-13,7%2

Visibility of
the most
noticeable
pores (level 5)
is reduced

-7,8%2

Pore
circumference
is reduced

-7,1%2

Pore
surface
is reduced

-3,1%2

Size of
pore-opening
is reduced

4.Clinical assessment on 38 women after four weeks

Why do pores sometimes become visible?

Why do pores sometimes
become visible?

Pores can dilate up to 10 times their normal size due to factors like the environment (pollution, weather, UV rays), lifestyle (smoking, diet, stress), and physiological characteristics (gender, oily skin, age).

Which product to use for visible pores?

Which product to use for visible pores?

Pore control is the new skin-perfecting treatment created by Clarins to treat and reduce the appearance of visible pores and enhance the skin's glow. It is designed for women with oily skin but women from all age groups, skin types and ethnicities can use it.

Instant results

Instant results

The perfecting texture beautifies the skin with an invisible coating that smooths and fills in pores. Dual-action powders that create an optical and mattifying effect to erase pores, blur their contours, and absorb excess sebum. "Light" pigments make the skin glow with the renewed silky smooth radiance of beauty.

How do you use Pore Control?

Why is the skin made up of pores?

Why is the skin made up of pores?

Your face has about 300,000 pores on the surface of the skin. Pores are openings for hair follicles. Each pore has a sebaceous gland. Pores enable the skin to eliminate sebum, which it needs for protection.

Scientific breakthrough

Scientific breakthrough

Clarins studied skin structure around pores and discovered that the firmer the structure, the less visible the pores.

Any other questions?
We've got the answers

Beauty FAQ

Always more answers to your questions